At least 80 people were killed, and about 100 more were injured when an armed man drove a truck at full speed into a crowd who had gathered to watch the Bastille Day fireworks display over the seafront in Nice on Thursday night.
Live Bastille Day truck attack: French president denounces 'monstrous' killing of 80 people – live updates Witnesses describe the terror and chaos after an armed man plowed into crowds celebrating France's national day in Nice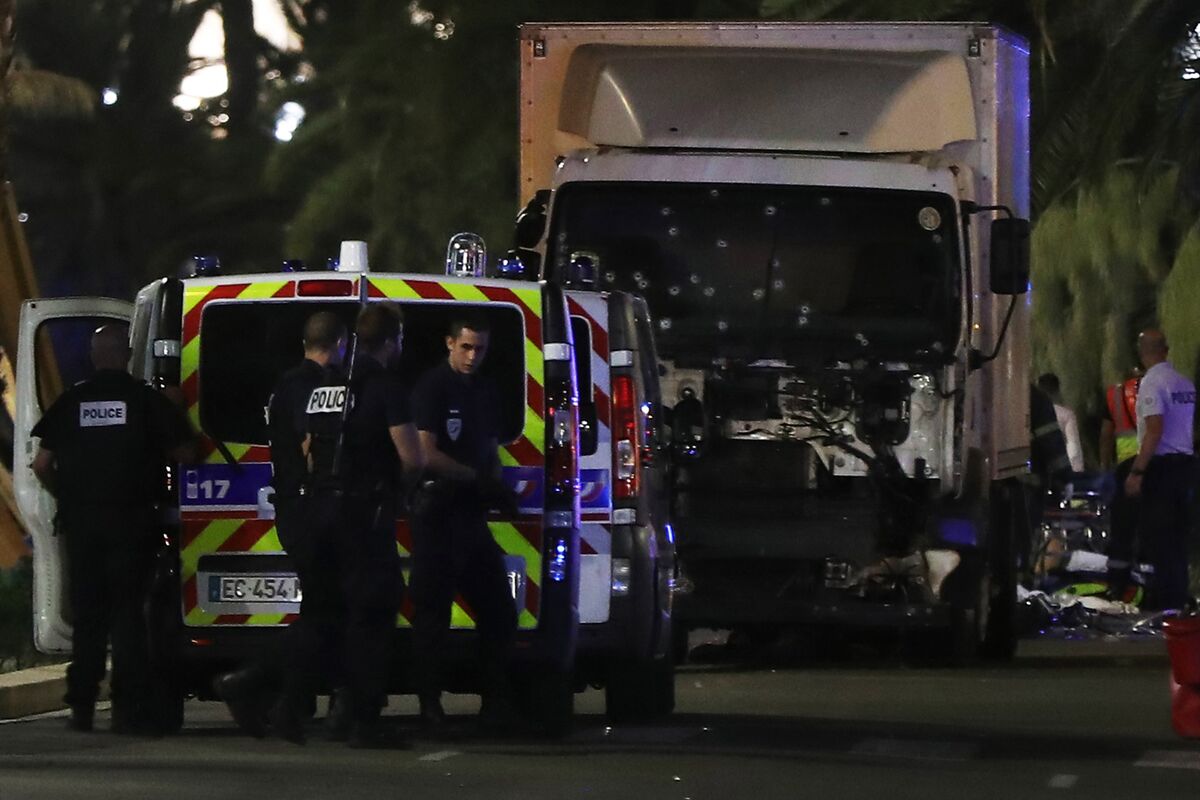 French counter-terrorism police are investigating after the driver careered into the dense crowd and continued to drive into them for a distance of 2km. The French interior ministry confirmed that the driver had been shot dead by police, investigating whether he acted alone or had accomplices.
Crowds run from the scene of the truck attack in Nice.
A police source told Le Monde that the driver was armed. Christian Estrosi, head of the local region, said there were explosives in the truck.
The date of the attack – France's national day of celebration – was seen as symbolic. It came eight months after 130 people were killed in November's coordinated Paris attacks on a stadium, bars, and a rock gig at the Bataclan concert venue.
Related Articles : 
An injured individual on the ground after the attack in Nice
Witnesses described scenes of terror and chaos on Nice's beachfront Promenade des Anglais as the truck driver ran down dozens in the crowd that included families, children, and babies. Moments earlier, the crowd of locals and tourists gathered in a festive atmosphere to mark France's 14 July bank holiday with the traditional fireworks display and concert. Witnesses described scenes of horror and chaos, with one man saying the van had mowed down people "like skittles at a bowling alley."
Bastille Day attack witness: 'A truck smashed into everyone. Everyone'
Maryam Violet, an Iranian journalist on holiday in the Mediterranean city, told the Guardian she had seen the truck running over people as they walked in the pedestrian area minutes after the fireworks finished. "Everyone was completely shocked; I saw that suddenly people were fleeing and shouting," she said.
"People were shouting, 'It's a terrorist attack, it's a terrorist attack.' It was clear that the driver was doing it deliberately," she said. "I was walking for nearly a mile and that there were dead bodies over the place. I think over 30 dead bodies are on the ground, and lots of people are injured, and tBlue sheets have covered the dead bodies. "I saw two sisters and one brother from Poland that were mourning the death of their two other siblings.
"There were so many Muslim people who were victims because I could see they had scarves over their head and some were speaking Arabic, one family lost a mother, and in Arabic, they were saying she's a martyr," she said. "People were celebrating, and it was so peaceful, it was a festive vibe, it was right after the fireworks that the truck came and ran over people."
Restaurant owners on the beachfront described sheltering panicked crowds who were fleeing and screaming. A reporter for the French news agency Agence France-Presse described seeing a white vehicle driving high speed onto the promenade. "We saw people hit and bits of debris flying around," he said, adding that the incident took place near the Hotel Negresco. The French president, François Hollande, rushed back to the Paris government crisis center from a visit to Avignon.
Earlier, he had given his traditional Bastille Day address saying that France's state of emergency, in place since November's Paris attacks, would end on 26 July. Wassim Bouhlel, a Nice native who spoke to the Associated Press, said he had seen the truck drive into the crowd then witnessed the man emerge with a gun and start shooting. "There was carnage on the road," Bouhlel said. "Bodies everywhere."
Bastille Day truck attack: what we know so far
It was unclear whether the driver had opened fire or whether the gunfire heard by witnesses was part of police attempts to neutralize the driver.
A spokesman for the new UK prime minister, Theresa May, said she was being kept up to date on events, adding: "Our thoughts are with all those affected by this terrible incident on what was a day of national celebration."
The White House said President Barack Obama was being kept updated. The president condemned "what appears to be a horrific terrorist attack in Nice" and said he had directed his team to offer any assistance France may need in its investigation.
The Republican presidential candidate, Donald Trump, announced on Twitter that, after the events in Nice, he was delaying a press conference planned for Friday to announce his running mate. He tweeted: "Another horrific attack, this time in Nice, France. Many dead and injured. When will we learn? It is only getting worse."